It was kinda those days where you just want to kick back and relax after so many days confined in the house, same feeling happened to me. At first I went to Mr Lean's tuitionwhere it took 2 hours(but teacher let us off 10 min earlier, seing as that we were so tired,lolz...). After that i drove the other guys home and also Ernest to my house because we had tuition later, (physics, haiz.....). I went home, and saw nobody at home, called my mom and she said that she was out with ma cousin and told me to go out and get lunch myself, YIPEEEEE!!!!!! Joyride!!!!! Lolz, not exactly, got a license d, not considered joyride,lolz. That is where I and Ernest went to Starbucks to have some coffee. Initially we were suppose to go and have lunch, but when we saw evrything was so expensive, kinda felt so full, haha.... We walked in and was suprised cause all the people we saw wore a shirt and a tie, lolz, we were the only 1's clad in T-shirt and short pants, lolz. Here are some pics when we were at Starbucks.
Lolz, this coffee cost me RM10.30, but luckily, it was nice, so was quite worth it!!!!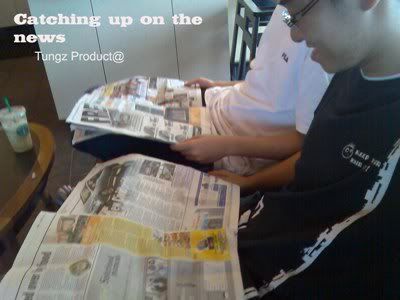 Suprised when Ernest passed me "The Sun", cause I thought we were there to have some coffee and have a chat only. Though it made us look more serious and blended more with the crowd there, hahaz.
Most of the people there were businessman, they were either discussing about their business plans, or either doing their work, man, did we look like a bunch of urchins, hahaz.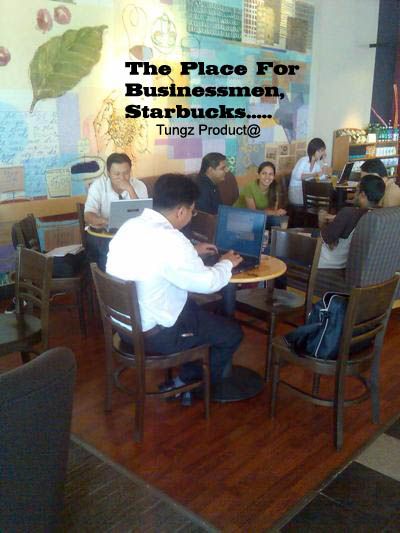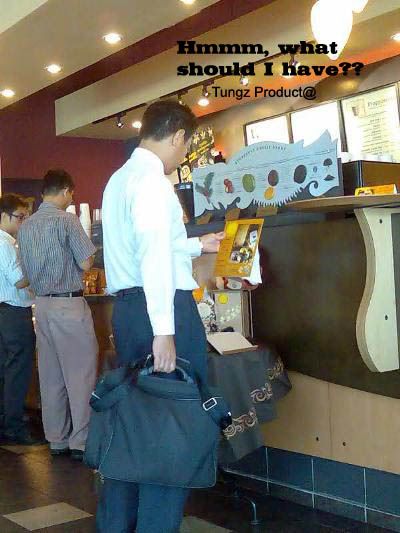 After finishing our coffee, we hurried back to my house cause it was time for tuition!!!! Banged my mom's car while trying to get out of the parking space, lolz, hope she doesn't find out....
Easter Egg:
I saw this on my mom's mileage meter, 1111km, lolz.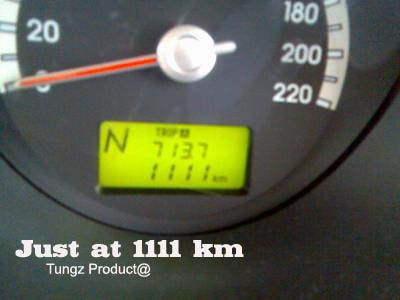 The "after some time" would be our physics tuition which is not good blogging material, people would fall asleep, lolz. But there was something though, the teacher would come back at night for a 2nd tuition, argh!!!!! Thats the 3rd tuition that day!!!!!!
Anyway, me and Ernest then progressed to the back of my house to do a little experiment that I saw on Youtube, Mentos and Diet Coke!!!! We don't have diet coke, so I just took Coca-Cola "Light", it was good enough. Anyway, the hypothesis was that when the mentos was thrown into the Coke, It would spurt out like a fountain, but we did not know that the speed of the mentos entering would affect the outcome. So although the coke did spurt out, it was considered a failure cause it only happened after we shook the bottle a bit. In malay, "Hipotesis ditolak, pecutan mempengaruhi t/b eksperimen", hahaz.
Here is a short clip of the reaction, a
VERY
short clip....
Here is the remains of the experiment, heartbreaking....haiz.....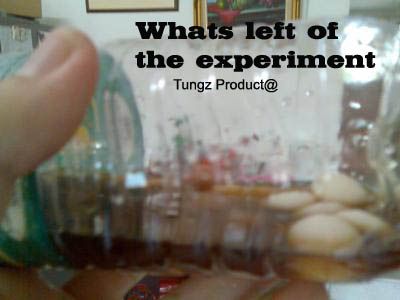 Never mind, Next time will be better, lolz....
Ok till next time, Tungz signing off....
In A Nutshell:
This is a small clip I took when I went to Tesco with my mom, 3 kids trying out the i-Gallop for 5 minutes, pretty hilarious if you were there in person, but this clip should give you an idea what happened...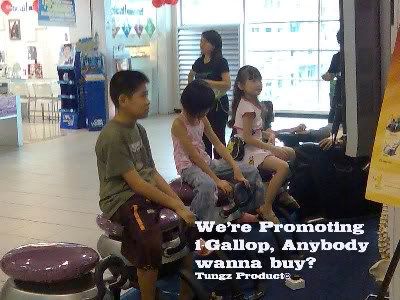 The girl even shouted," Oh no!!!!! Somebody is taping us!!!!!" Lolz!!!!!