After a week's absence(and 2 days of food poisoning, arghh....) I'm finally back blogging. 2 weeks ago, I found a very retro video camera in my dad's closet while I was helping my mom clear the room, guess what, it's about 16 years old cause my dad said he bought it right after I was born, SO COOL!! Anyway, I took a few photos of it, with help from my pops, lolz....
Just thought I'd give it a name, so I called it Retro Cam.
Of course along with the camera, comes the bag, lolz, which is also about 16 years old
While most of the camera's now either use small tapes or memory cards as a storage device, this 1 still use casettes as its storage device.
Now this is what you get get when a battery gets old, be careful, the stuff around it is poisonous!!!
Lolz, Tungz with the Retro Cam!!!!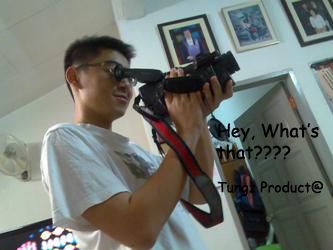 Striking a pose with the Retro Cam, lolz, just really like to fool around with stuff that is old.