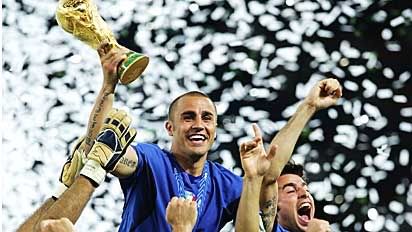 Champions Of Football, Champions Of The World:

IT

A

LY

!!!! Well I did watch the match, I can tell you that, it was a real fast-paced match with France and Italy going neck and neck(I was rooting for France by the way, sobs...). Anyway, the match exploded in the 7th minute when Malouda was brought down in the penalty box( though it looked like a dive to me) and a penalty kick was awarded. Zidane took the kick and everyone gasped in shock as the ball hits the post and just barely crosses the line, phew....!!!! Zidane manages to make the keeper go the wrong way and France was 1-0 up. Italy was never out of the game, in the 17th minute, an amazing corner by Pirlo was not wasted by Materazzi as he headed in the equalising goal that kept the Italians in the match, 1-1!



The 2nd half although goalless was also packed full of action with mostly France attacking the Italian side but failed to convert their chances into goals. After normal time had ended it was on to extra time, where in the 2nd half of extra time, Zidane was sent off for a ridiculous headbutt to Materazzi's chest. It was clearly a red card and what a sad way it is to end the international career of a great player(what the heck was he thinking? haiz....)

And the decision maker arrived when the 2 teams even after extra time was 1 a piece, went to penalties to decide the fate of the then "future" World Cup champions. the penalties went on like that: ITA-Pirlo(score), FRA-Wiltord(score), ITA-Materazzi(score), FRA-Trezeguet(miss), ITA-De Rossi(score), FRA-Abidal(Score), ITA-Del Piero(Score), FRA-Sagnol(Score) and then ITA-Grosso(score), which meant that Italy won by 5-3 to penalties!!!!

VI

VA

ITA

LIA

!!!!

Congrats to the champions!!!! And we will see if they can retain their title at the next World Cup!!!!! Lolz!!! I now bid farewell to the World Cup, another 4 years wait!!!